Add 2 to cart, then you will get 4pcs.
(Send the same color)
Forgetting to count rows can ruin your knitting projects.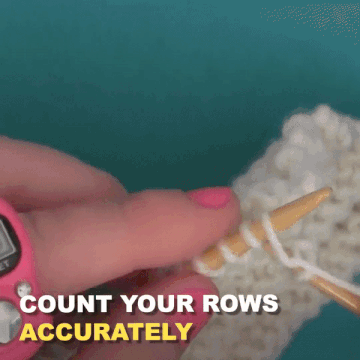 But with a CraftersNook Digital Knitting Row Counter, you can quickly solve this knitting struggle. This digital counter will keep tabs on your rows so you can avoid errors and ruin your needlework. You'll never forget or get confused about what row you're in while knitting. Just put it on one of your fingers and keep count with only one push of a button!
Features and benefits: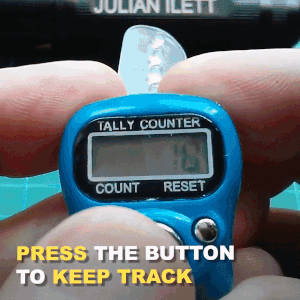 ✅ Quick, smart row counting. No need to tally by hand anymore. This little device will do all the counting for you. This is especially helpful if you're working on a complicated knitting pattern or trying to keep track of pattern repeats. It prevents confusion and mistakes, making your knitting fast & efficient.
✅ A breeze to use. Simply push the big button when finishing a row, and the number on the screen goes up by 1. If you finished another row, push the button again and the number will increase. Done with counting rows? Press the small reset button to set the number on 0 again.
✅ Won't disrupt your workflow. You could easily see the screen and push the button while knitting without changing your grip or turning your hand. The button is sensitive enough to push easily when intended, but not sensitive enough to easily be pushed accidentally.
✅ Easy-to-read display. The LCD screen displays easy-to-read row counts. If the display goes off, you just have to tap the button once to wake it back up and bring back the number you last had on it. This means you can set your work down at any time without having to remember or write down your last count.
✅ Comfortable to wear. Has a soft silicone strap with buttonholes, it can comfortably fit fingers of all sizes. Simply adjust for a snug fit.
✅ Lovely, practical gift idea. Comes in 6 cute colors and makes needlework blunder-free, it's a nice gift to share with fellow knitters and crocheters.
Product Specifications:
Package includes: (1) Digital Knitting Row Counter
Material: ABS Plastic + Silicone
Size: 35 x 27 x 10 mm/ 1.38 x 1.06 x 0.39 inches
Strap Length: 105 mm
Color: Yellow, Green, Blue, Black, Red, Pink
Powered by: AG3 button battery (not included)