Enjoy stitching with flexible hands & fingers, complete the work with love, and create a meaningful and special present for the ones you love.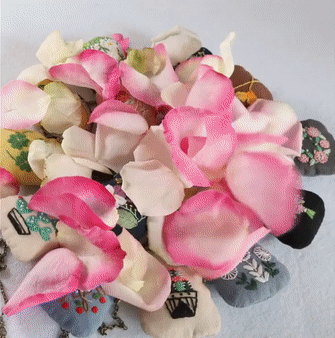 We always think that each handmade item is a creation of love and skill and the artisan uses all their abilities to create a beautiful item that celebrates their craftsmanship, that is why we understand the value of each piece.
Features:
Easy To Operate - The instructions include illustrations of needlework, teaching you how to deal with embroidery floss, printed pattern, and the way to frame embroidery.
You will enjoy double fun with our sachet bag embroidery kit. Not only in the process of making the embroidery kit, but after finishing the sewing projects, you can get a lovely and practical change purse for coins.
Exquisite embroidery pillow kits to add personal style to your home space. Made of premium quality Cotton Canvas, Irresistibly comfortable and soft, give you an amazing skin feel.
Multi-function - Enjoy the fun of embroidery. Each canvas is printed with a pattern to guide your embroidery work.
Complete Set - Comes with all the tools and materials you need to start embroidering. 
In your free time, you can enjoy the process of DIY embroidery. You can give the finished embroidery as a gift to your family or friends, or you can put it at home as an ornament. 
Specification:
Embroidery cloth.
Embroidery hoops.
English instructions guide.
Embroidery needles.
Embroidery threads of different colors.
Product Name
Size
Weight
Canvas Tote Bag Embroidery Kit
13.38" X 15.35"
1.10lb
Sachet Bag Embroidery Kit
7.87" X 6.69"
1.10lb
Pillow Cover Embroidery Kit
17.72" X 17.72"
1.10lb
Cosmetic Bag Embroidery Kit
8.66" X 6.69"
1.76lb
Vanity Mirror Embroidery Kit
5.90" X 3.14"
1.76lb
Pendant Bag Embroidery Kit
1.96" X 2.75"
1.10lb
Necklace Embroidery Kit
1.96" X 2.75"
1.10lb
Peacock Hanging Painting Embroidery Kit
Not Included Frame
19.68" X 25.59"
 1.10lb