In case of the shipment and delay of air transportation.We are finding the new solution!


When you finish the payment,we send you the PDF instruction.You can download and print it at home. Just check it on your email!


Also,If you didn't received our email.




you can send emai to : support@henlens.com to contact us!
PDF version is coming~~!!
🐣Let's welcome Easter together!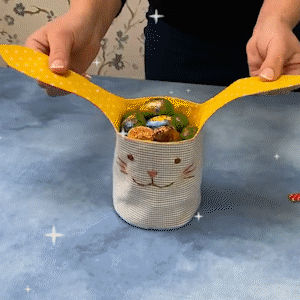 We specially prepared this bunny-shaped bag to increase the festive atmosphere and at the same time, it can also bring more holiday joy to the children.
We provide a detailed tutorial, which is also perfect for beginners.
A must have for Easter:
the bunny basket can be used as a gift basket or toy for Easter egg hunt, they can be used to carry the eggs, candy and gifts during Easter day,🐣bring more joy and holiday atmosphere for the kids.
Reusable, no more wasted time and resources!
They fit in a variety of places and can also be washed as needed. Even if you are not good at sewing, you can still make these lovely bunny basket.
It is not only perfect for holidays,
but also for daily use, as a lunch bag, picnic, gift wrapping, or to store household items, toys.
After making the item you can also choose to sell or use it for your own use, we also provide a variety of flowery fabrics that can help you finish this product better.
We've prepared
3 sizes
for you to choose from.
Specification:
Basket size: 11*10*6cm
(Another smaller bag can be printed and made smaller)